Poster showing a knight on horseback, with the Austro-Hungarian banner behind him, slaying a dragon. Text reads: Subscribe to the 6th War Loan, 1917.
Poster announcing an exhibit of images of the war, at the Kunstlerhaus, Vienna, Austria. 1918.
Poster showing a young woman offering a bowl of coins at an alter decorated with the Austrian coat of arms. Text: Union Bank, 8th War Loan; while on the alter it reads Peace through Victory,1918.
Poster showing a framed picture of a medieval knight with a laurel wreath on his head reaching up to help a woman wearing a crown seated on a horse. In the background can be seen Vienna with St. Stephens Cathedral and the slogan "Durch Sieg zum Frieden" or Peace through victory. Text reads: Subscribe to the War Loan, Bankhouse Schelhammer & Schattern.
Poster showing a medieval knight with the Austrian Imperial eagle on his tunic, standing in front of an Austrian banner, with his sword raised as if about to strike. The text tells people to subscribe to the 5th War Loan at the Zivnostenska Banka.
Advertising poster showing a large Roman style helmet. The text advertises an exhibition called "Art in War" in Berlin, 1916.
A poster showing two cherubs decorating a German helmet with garlands of flowers. Text reads: "Altona's War Relief Flower Day". The Poster also announces the opening of the Flower Exhibit at the Kaiserhof, 1916.
Poster showing a woman, representing Peace, with a dove on one hand and a golden sheaf in the other. The chain on her ankle has been broken, by the golden hammer resting on the anvil to which she was chained. The text encourages people to sell their gold to the government.
Poster showing a German soldier holding a child in his arms, behind him is a woman and child. Text reads: Fatherland, family, future -8th War Loan, 1918.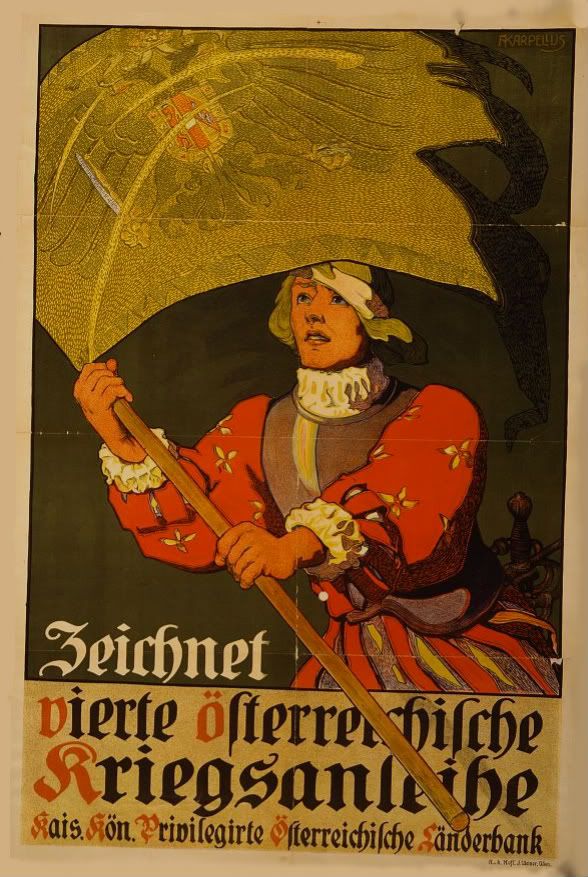 Poster showing a 16th century soldier holding up a flag with the Austro-Hungarian double-headed Imperial eagle on it. Text reads: Subscribe to the 4th Austrian War Loan, 1916.